Bharat Jyoti Shakksha Kendra (A school for Underprivilegde Childrens)
Bharat Jyoti Shiksha Kendra (School for under-privilege children) Established in 2009, at Gayatri Nagar, Sitapur Road, Lucknow. Till date 900 under privilege have been benefited.
Bharat Jyoti School for Under Privilege has Celebrated an Event with Shoppers Stop Multinational Group, Lucknow.
साँई शरण धर्मार्थ होम्योपैथिक चिकित्सालय
भारत विकास परिषद, लखनऊ एवं होम्योपैथिक रिसर्च फाउण्डेशन द्धारा संयूक्त रूप से संचालित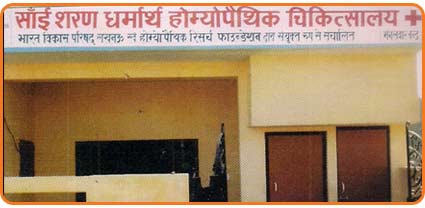 | | |
| --- | --- |
| | इसी चिकित्सालय परिसर मे भारत ज्योति संस्था द्धारा दिनांक ३० मई २००९ से समाज के निर्धन वर्ग के बच्चो को िशक्षित करने के उद्देद्गय से भारत ज्योति धर्मार्थ िशक्षा केन्द्र का संचालन सायं ४ से ६ बजे तक किया जा रहा है। |
| | |
| --- | --- |
| चिकित्सालय से प्रांगण में प्रत्येक माह में दो बार (मंगलवार को) निःशुल्क दन्त चिकित्सा द्गिाविर सरस्वती डेन्टल कालेज के दन्त चिकित्सको के द्धारा चलाया जा रहा है, जिसमें समाज के निर्बल वर्ग के लोगों को निःशुल्क दन्त चिकित्सा सुविधा प्रदान की जा रही है। | |
In pursuance of opening of Bharat Jyoti Primary school in village Raitha, Block Bakshi Ka Talab, District Lucknow under the aegis of Bharat Jyoti, an organization registered under societies act 1861, following have been nominated members of the governing council of the school with the authority to run the school on daily basis as they may feel appropriate. The power to select & decide payment of teachers and other staff of the school rests with the council. The council has been authorized by the board of Bharat Jyoti to negotiate and enter into any agreement with any agency, whether government or private for future development of the school.
The list of council members are as follows
| | | |
| --- | --- | --- |
| 1. | Mr. Hansraj Jain | Chairman |
| 2. | Mr. L. K. Jhujhunwala | Member |
| 3. | Dr. R. M. Mathur | Member |
| 4. | Mr. Amit Jaiswal | Member |
| 5. | Dr. S. L. Vaish | Member |
| 6. | Mr. R. K. Upadhaya | Member |
| 7. | Mr. Vijay Acharya, Ex. Officio | Member |
| 8. | Fr. Paul Rodrigues. Ex. Officio | Member |
| 9. | Dr. Manish Bhatnagar | Secretary |
| | | |
Managing Committee of Bharat Jyoti Shikksha Kendra, Naubasta, Lucknow.
(A School for Underprivileged Childrens)
1.
Mr. Vijay Acharya, Lucknow
Founder President
2.
Mrs. Kushmangni Mathur, Lucknow
Chairperson
3.
Mrs. Neera Acharya, Lucknow
Vice Chairperson
4.
Mrs. Seema Gupta, Lucknow
Secretary
5.
Dr. Girish Gupta, Lucknow
Board of Director
6.
Dr. R. M. Mathur
Board of Director
7.
Mrs. Madhu Mathur
Board of Director
8.
Mr. Y. K. Gupta
Board of Director
9.
Mr. Ramesh Malhotra
Board of Director
10.
Mrs. Ritu Bhatia
Board of Director
11.
Mr. Ajay Kumar Agrawal, C.A. London(UK)
Co-ordinator &
International Director