Press Release
Nav Bharat times Lucknow 11th Feb 2019
Amar Ujala 30th Jan 2019
Press conference of President Mr. Vijay Acharya
Bharat Jyoti Upbhokta Shree Awards 2018
Year 2017
Kishwari Konnect Presents Jashn-e- Niswan, celebration of women power 7 clip up date today
Leading Women Empowerment Organization Kishwari Konnect headed by dedicated social worker & Sr. Journalist Ms. Kulsum Talha has Awarded (Jazbey Ko Salaam) Founder President of Bharat Jyoti Mr. Vijay Acharya for his contribution in the field of Consumer Awareness&Women empowerment by the Minister for Child & Women Development Of U.P. Govt. Dr. Rita Bahugana Joshi on 8th April, 17 at the Felicitation Ceremony at Lucknow.
Bharat Jyoti Upbhokta Shree Awards
Year 2016
Impact of Demonetization of currency notes on Industry and Consumers
Shri Lakshmi Raman Acharya's birth anniversary was celebrated on 2nd Nov. Sewa Diwas at Bharat Jyoti's school for under privilege children.
Inauguration Function Road name in the memory of Late Lakashmi Raman Acharya, Renowned Freedom Fighter, Sr. Advocate & Former Finance Transport Minister.
Year 2015
Bharat Jyoti vs Future Value Retail
Big Bazar Panalized for unfair Trade practices (Case No. 1137/2013, Dist Forum-II, Lucknow)
Coverage of Bharat Jyoti Under Privilege School Published in 8th.Aug.15 Danik Jagran,Popular Hindi News Paper.
Year 2014
Year 2013
Year 2012
Year 2011
Year 2001-2004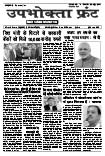 01st - 28th February 2017